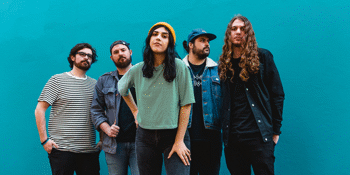 Crowbar Brisbane, Young Henrys, GBH, Jack Daniel's and Human Warfare presents
WAAX
with Walken, Pandamic & Something Something Explosion
Crowbar (Fortitude Valley, QLD)
Thursday, 9 August 2018 8:00 PM
CROWBAR BRISBANE, YOUNG HENRY'S, GBH, JACK DANIEL'S AND HUMAN WARFARE PRESENT: CROWBAR'S 6TH BIRTHDAY WEEK!
We are very pleased to announce the newest addition to our birthday week! After one hell of a sold out hometown show, Brisbane's favourite explosive, melodic, loud, raw punk rock 5 piece WAAX ring in our Thursday night celebrations, with Brissy staple grunge pop-rockers Walken, super catchy indie party punks Pandamic and 90s-esque punk rock trio Something Something Explosion!
The week so far:
TUESDAY 7th - THE BRAVE, SHE CRIES WOLF, SATELLITES, JOY IN MOTION & AM//PM DJ's
WEDNESDAY 8th - THE HARD ACHES, SWEATER CURSE & THE CUTAWAYS
THURSDAY 9th - WAAX, WALKEN, PANDAMIC & SOMETHING SOMETHING EXPLOSION
FRIDAY 10th - BODYJAR, GAMEOVER & BEERWOLF
SATURDAY 11th - THY ART IS MURDER, ALPHA WOLF, ANTAGONIST A.D, XILE & CRAVE DEATH
SUNDAY 12th - TBA
Tickets are moving fast, get yours now!