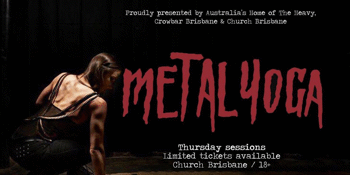 Crowbar Brisbane presents
METAL YOGA - Thursday Session
Crowbar (Fortitude Valley, QLD)
Thursday, 30 August 2018 6:00 PM
METAL YOGA THURSDAY SESSION
Thursday 30th August
6-7.30pm
All equipment supplied
$25 per person + Booking Fee (tickets must be pre-purchased)
Limited availability
Church Brisbane, 243 Brunswick Street, Fortitude Valley
(Entry via Crowbar Black)
In 2017 Rebecca begun to build our Metal Yoga Community by bringing a dedicated Metal Yoga class to Brisbane at Crowbar's Church. The classes have brought together the two worlds of yoga and heavy metal by exploring the effect of sound and contrast in a purposeful way encouraging students to develop awareness of how sound impacts their being. These classes are balanced with three types of energetic principle: the rajastic element of fiery action, the darker inertia of tamas and the sattvic state of peace and goodness. We encourage you to open your mind to how the two methods of creative expression work very well together and challenge everything you may have thought you knew about what yoga should be.
Classes are limited to 20 students to ensure a personalised and safe metal yoga experience. This means that classes consistently sell out fast. To avoid disappointment we recommend that tickets be secured at Oztix immediately.
--------------------------------------------
ABOUT REBECCA
Rebecca began practising yoga in 2003 and has been teaching yoga since 2013 delivering over 2,500 classes.
Her classes have been described by her students as coming from a place of deep understanding, passionate, authentic, quirky, unique, powerful and intuitive.
Initial studies were conducted over 12 months in Australia, she went on to spend 5 months of intensive residential training in North India. She holds 1000hrs+ of teacher training certification and her study is ongoing.
She accesses freedom of expression in her practice and classes, exploring polarity of energy as it interplays through mediums such as sound and dance. Rebecca takes interest in Shiva the destroyer of illusion, Mahakali the Goddess of time and death, the Aghori sadhus and heavy metal. She engages in strength training, dance and callisthenics to complement her yoga practice.
Rebecca teaches the yoga of darkness and light. Come and meet with her for a different type of yoga experience.
Find her on Instagram: @thislightdestroysdarkness
Follow Church on Instagram: @churchbris
Follow Crowbar on Instagram: @crowbarbris