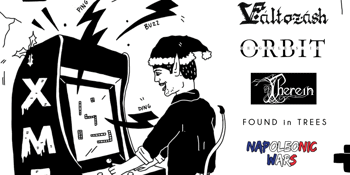 Crowbar Brisbane
X-MESS III
Valtozash, Weightless in Orbit, Therein, Found in Trees, Napoleonic Wars, JOAL and Shadows Without Substance.
Crowbar Brisbane (Fortitude Valley, QLD)
Thursday, 20 December 2018 6:00 PM
'Tis the Season.....again!
X-Mess III is upon us...... featuring Australia's only Jazz-Metal Bigband Valtozash, Progressive Rock lords Weightless in Orbit, Proggy thrashers Therein, Heavy hitters Found in Trees, Heavy Math Rock-esk Napoleonic Wars, Emo/Indie JOAL and Grunge inspired Shadows Without Substance.
THURSDAY 20TH
DECEMBER
Doors
6pm
- Tickets available
www.crowbarbris.com
CROWBAR BRISBANE 18+