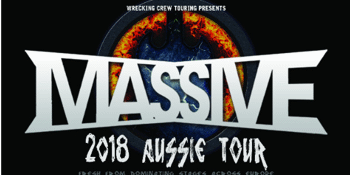 Massive
Crowbar Brisbane (Fortitude Valley, QLD)
Wednesday, 28 November 2018 8:00 pm
MASSIVE ANNOUNCE FIRST AUSTRALIAN TOUR IN OVER A YEAR

Aussie beer drinking rock n rollers MASSIVE have just dropped a run of Australian dates, the bands first shows on home soil in over a year after dominating stages and festivals all around Europe.

Nov 28 - Crowbar - Brisbane
Nov 29 - Beach House Hotel - Hervey Bay
Dec 1 - The Stag - Newcastle
Dec 6 - Frankies Pizza - Sydney
Dec 7 - Transit - Canberra
Dec 8 - The Servo - Woolongong
Dec 9 - SSnA Club - Albury
Dec 13 - Jive - Adelaide
Dec 14 - The Loft - Warrnambool
Dec 15 - Cherry Bar - Melbourne

"We don't play in Australia very often anymore, but when we do we give it our all. This will always be our home and we can't wait to smash some beers and play some rock n roll on home soil, it's going to be 3 weeks of madness" Says Brad Marr.

To coincide with this red hot news, the band have also announced their 3rd studio album Rebuild Destroy will be released on February 1st 2019 with a lyric video of the first single "Roses" out now.

Massive started back in 2012 with founding members Brad Marr and Ben Laguda having nothing better to do than tour the world playing rock n roll. 2 albums later and having toured with some of the best musicians in the world, the band are stronger and more determined than ever to get in a cramped van and smash it night after night. This is no frills dirty rock n roll.

The band signed a deal with Earache Records in 2014 and had their debut album released on the cover of Classic Rock Magazine. Massive immediately went on tour supporting the likes of, ZZ Top, The Screaming Jets, Living Colour, Glenn Hughes, Rainbow and many more. Their follow up "Destination Somewhere" reached 33 in the UK charts and 19 in the Australia AIR independent charts. Massive's 3rd album Rebuild Destroy is out through Wrecking Crew Records on Feb 1st 2019.