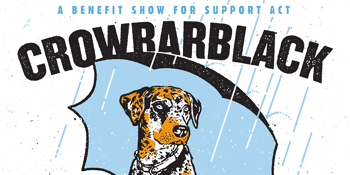 Crowbar Brisbane, Hobbledehoy Record Co, Team Glasses & Swim Down Stitches
CROWBAR BLACK - Saturday Night
Brief Habits, Semantics, Wildheart, Backoff Warchild, ISOLATION, friend & me, Tim Hampshire, Millie Ivaschenko - music & Dal Failure.
Crowbar (Fortitude Valley, QLD)
Saturday, 25 August 2018 5:00 PM
Crowbar
Brisbane,
Hobbledehoy Record Co
,
Team Glasses
& Swim Down Stitches presents
CROWBAR BLACK - A Benefit for
Support Act
This event started to help raise money and awareness of depression and its impact on people we know and love.
2018 has seen us lose one of the biggest heartbeats in the brisbane music scene in a dear friend Shane Collins.
So this year crowbar has made the annual event even bigger with 2 days of music and an even bigger importance and focus of starting the conversation about depression and how we as a community can help those in need. All the bands playing we cannot thank enough for being a part of such a huge things in our lives.
Crowbar is a place that thrives on community and is the greatest place on earth for hosting this event every year.
And to everyone that can come along one one night or both nights, you are the people making a difference and if you wanna talk to anyone about anything or just come and celebrate the lives we were lucky enough to be a part of even if only for a moment.
This year features
Brief Habits
,
Semantics
,
Wildheart
,
Backoff Warchild
,
ISOLATION
,
friend & me
,
Tim Hampshire
,
Millie Ivaschenko - music
&
Dal Failure
.
Poster by
Annie Walter Design
.
SATURDAY 25TH AUGUST - From 5PM
Tickets available at
www.crowbarbris.com
CROWBAR BRISBANE 18+